Bluebirds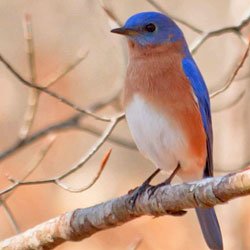 Bluebirds are a member of the Thrush family related to the American Robin. Three bluebirds make their home in North America: The Eastern Bluebird, The Western Bluebird and the Mountain Bluebird.
The Bluebird of Happiness. According to Wikipedia, "the mythology of the bluebird of happiness has deep roots that go back thousands of years. Indigenous cultures across the globe hold similar myths and beliefs about the bluebird." So, helping a bluebird find some food and shelter in your backyard certainly can't be a bad thing, right?.
Attracting Bluebirds
Bluebirds prefer to live in open parklands, pastures and meadows. In fact 60-80% of their diet is insects. They like to perch on fence posts or small trees and swoop down to eat insects on the grassy ground. Bluebirds won't typically visit your seed feeders, but will enjoy meal worms provided at a special feeder.
Bluebird House Kits
Easy to build bluebird House Kit. This ready-to-build kit is made in America from long-lasting cedar, a perfect natural wood for birdhouses. Comes with easy to follow instructions.
This kit from Coveside makes a sturdy and effective bluebird house. Materials are durable eastern white pine. In addition to bluebirds, this house works for chickadees, titmice, wrens, warblers, nuthatches, and tree swallows.
This birdhouse has a slant front design, drainage holes, and ventilation. Star design.
Making Your Yard an Attractive Home for Bluebirds
Providing nesting materials is a strong factor in attracting nesting bluebirds since collecting nesting materials can take 100's of trips. Bluebirds like soft grasses and fragrant pine needles as nesting material. Provide these nesting materials in a specially designed container, an empty suet cage, or simply gather bunches of material and situate in the bark of a tree.
Plant scattered fruit and berry trees, mixed with open lawn and herbaceous flower beds to create a habitat that will attract bluebirds. Bluebirds enjoy the berries and fruits of dogwood, red cedar, sumac, bayberry, Virginia creeper, holly, blueberry, hackberry and elderberry.
Where Bluebirds like to nest: Bluebirds eat insects during the nesting season. Therefore, ideal bluebird habitats are places with lots of insects, such as open and barren or short-cut/sparsely grassed areas (so they can see their food) with a few trees nearby (for perching). Places you will find bluebirds include pastures, cemeteries, lightly traveled roadsides, golf courses, open areas in parks, and the edges of meadows. Bluebirds will also nest on the fringes of towns and cities, especially if they were nesting in those areas prior to development
Bluebirds will readily nest in bluebird houses, as long the house is in a good location and constructed properly.
---

The Bluebird Book: The Complete Guide to Attracting Bluebirds
(Stokes Backyard Nature Books)
This book contains everything you need to know in order to attract beautiful bluebirds to your property. Plus, lots of information about bluebirds and bluebird behavior. This is a large-sized paperback with glossy pages and lots of full color photos. The Bluebird Book is an excellent reference for anything interested in bluebirds and a very nice gift for someone with a passion for bluebirds.

---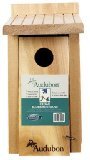 Handcrafted cedar bluebird
house with easy-open front for cleaning. National
Audubon Society approved. Made in the USA.
More info.
---
Make your own Bluebird House! Bluebird Nest Box Plans from the North American Bluebird Society.