Common Birds: Identifying Birds by Color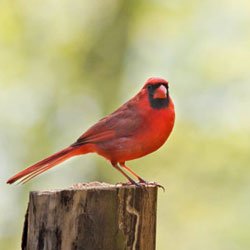 The first thing most people notice about a bird is the color, so I've provided a very basic color-coded guide to some of the more common birds you're likely to see.
These bird-by-color guides are good place to start when trying to identify a bird you see at your feeder or in your yard. These aren't' all-inclusive bird lists, but just some of the birds that you might see and that are pretty easy to identify.
Once you know some of the more common birds, you'll want to get yourself a good bird identification guide and expand your knowledge. But for now, here are some common birds listed by their primary colors.
Common Birds by Color
Common Black and White or Gray and White Birds
Bird Guides
All About Birds - An excellent online resource by the Cornell Lab or Ornithology
Stokes Beginner's Guide to Birds: Eastern Region (Stokes Field Guide Series)
National Geographic Field Guide to the Birds of North America